When:
November 26, 2020 – November 29, 2020
all-day
2020-11-26T00:00:00+02:00
2020-11-30T00:00:00+02:00
Thanks to everyone who participated in our virtual Turkey Trot! We appreciate you sharing part of your Thanksgiving with us and supporting the Greenway. We received some great photos from participants which we'll be sharing on our social media channels, you can also find them here. And thanks again to our event sponsors that are listed below!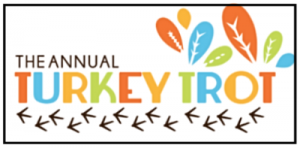 Turkey Trot is our classic Thanksgiving Day event for participants of all ages. Because of Covid-19, we'll be holding it in a virtual format this year. Instead of our usual in-person gathering at the Muncie Depot, we hope you'll still celebrate your holiday by getting out and walking, running or riding with friends and family any time over the Thanksgiving weekend. But this year you get to pick the time and location, either on the Greenway, in your neighborhood, anywhere, and we invite you to register for this virtual event in support of the Greenway.
Because of this modified format, you can participate anywhere throughout the 62 miles of the Greenway and still support the trail from Thursday, November 26-Sunday November 29. We'll have signage placed at various trailheads with suggested distances but you're welcome to get out and pick your time, place and distance, either on the trail or elsewhere. We also want you to share photos of your activity with us so we can show them off on social media. You'll receive instructions on this when you register.
With the trail seeing a significant increase in usage this year it's been a challenge maintaining and caring for the sixty-two miles of the system for the thousands of people out walking, running and riding. With all of our Spring and Summer fundraising events being canceled this has had an impact on our daily operations so your support for the virtual Turkey Trot is especially meaningful this year.
Turkey Trot is an enjoyable, gratifying way to spend your Thanksgiving weekend!
Thanks to our event sponsors: