Walk Indiana Wrap Up
Thanks to everyone who came out for Walk Indiana! We had a great turnout to help celebrate the tenth anniversary of this wonderful event. Walkers covered routes of 5K, 10K and 10 Miles and enjoyed a celebration at the finish line at the Muncie Depot. Thanks to all those that participated and helped support the Greenway!
BikeTOURberfest
Our next event is BikeTOURberfest which highlights the southern section of the Greenway in Wayne County. It takes place Saturday, October 5 and offers four ride distances of 5,22,26 and 56 miles so it has something for everyone from the beginner rider to experienced cyclists. The two shorter options are out and back on the trail while the two longer routes combine the Greenway and beautiful fall country roads. This year we've added a three-mile fun run/walk that will start once the riders have departed. We'll have great SAG stops along the way on each route to help get you back to the finish. Sign up by this Sunday, September 15 to order one of the tech event shirts below. Register today at biketourberfest.com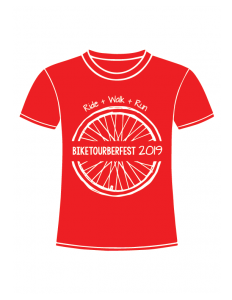 Online Store
Cardinal Greenways is excited to announce the opening of our online gift shop! Support your favorite trail and get some great CG merchandise today. From water bottles to custom-designed tees to racing jerseys, we've got some of the same great gear you can get at the Muncie Depot now available online at your fingertips. Want to get your hands on something now? Click here to start shopping now.
Trailhead Addresses
We have over twenty trailheads throughout the sixty-two miles of the Greenway. We now have addresses for each of these locations which should make it easier to find a place to access the trail. These are great places to use the Greenway to start your walk, run or ride. To find a trailhead click here.