Turkey Trot Wrap Up
Thanks to everyone who came out and started off their Thanksgiving Day with us. We had over four hundred people run and walk our annual Turkey Trot before they began their festivities. Thanks for making us a part of your Thanksgiving!
Christmas at the Depot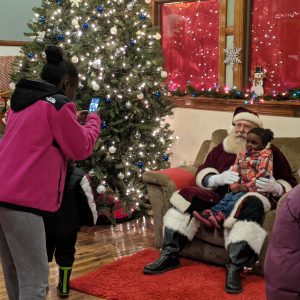 We kicked off the holiday season with Christmas at the Depot last week. We had over five hundred people join us, along with a special guest who gave out toys and helped spread holiday cheer. Thanks to everyone who came out to begin this special time with us!
Shop the Greenway
If you're looking for some last-minute shopping ideas we have a new option that will also help support the Greenway. We now have great trail items like shirts, water bottles and jerseys available for purchase through our website. This is a great way to get some Greenway gear for everyone on your list and support the trail. Orders must be placed by Thursday, December 19 for delivery by Christmas. Shop now here.
Once you're done shopping the Greenway online store we've got another easy way for you to support the trail. Go to smile.amazon.com and enter Cardinal Greenway and shop away. A portion of every purchase made this way will go towards the Greenway. Support the trail while you get your holiday shopping done!