National Trails Day 5K 
Thanks to everyone who came out for our first event of the year. We had a great turnout as we celebrated National Trails Day and the 25th anniversary of the Greenway. We appreciate the support of all the runners and walkers who participated and our wonderful sponsors Bowen Engineering Corp (title sponsor), A Rental Service Company, E&B Paving, Lifetime Skin Care, Meeks Mortuary, Ball St. Federal Credit Union, Enterprise Plumbing, Land Collective, Victory Honda, Cross Law Firm, HWC Engineering and First Merchants Bank. Congratulations to our overall winners, Jewels Warfel and Chanse Milhollin.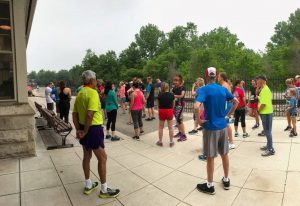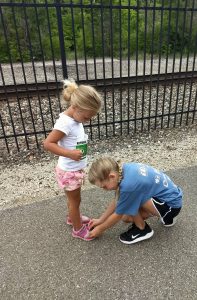 Bike Fest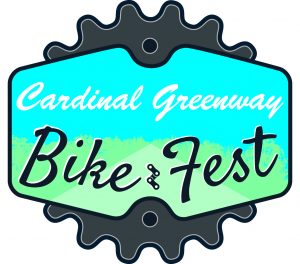 Our next event of the year is coming up at the end of July. Bike Fest will take place July 27-29 and offers something for everyone. Friday is a free community ride from the Muncie Depot to Canan Commons where there will be a variety of activities including a BMX show, food and a beer garden. Saturday is the Great Greenway Tour giving you the opportunity to travel any section, or all, of the Greenway.  There will be SAG stops along the trail and lunch back at the Depot. Guided bike tours of Muncie landmarks will also be offered, including breweries and historical sites. Bike Fest is presented by our title sponsor Old National Bank. The weekend wraps up Sunday with the Muncie Power Products Grand Prix Criterium. Racers will cover a loop course through downtown Muncie and compete for merchandise and prize money. For more information or to register for any of the events visit 
muncie-bikefest.squarespace.com
Bike Repair Stand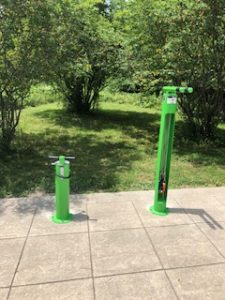 The Greenway has installed a bicycle repair stand at the Muncie Depot. It was purchased with funds received from the Friends of Muncie Endurathon. The unit has a variety of tools and a pump that allow trail users to do basic maintenance and repairs to their bicycles while on the Greenway. A second stand will be placed at the Prairie Creek trail head. We're very thankful to FOME for their support of the Greenway!
Support the Greenway
There are several easy ways for you to help support the Cardinal Greenway.
Whenever you're shopping online use Amazon Smile and a portion of your purchases will go towards the Greenway. Go to smile.amazon.com to enroll.
We're always looking for additional volunteers to help care for and maintain the 62 miles of the Greenway. We have a variety of needs from events to trail maintenance and will work with your interests and availability. You can find more information on volunteer opportunities and sign up to help out by going to cardinalgreenways.org
As one of the oldest private trail systems in the country we rely on the generosity of our users to help us keep the trail looking great. As we celebrate our 25th anniversary in 2018 your financial contributions will help us in providing this community resource for another twenty five years. You can donate online at cardinalgreenways.org.